17th Street Festival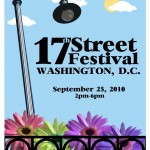 Local estimates suggest that about one of every five federal economic stimulus dollars was spent upgrading the road, sidewalks, and dog parks on 17th Street, NW, from Massachusetts to Florida Avenues.
You can celebrate the cessation of combat operations with local residents and businesses, this Saturday from 2pm to 6pm.
The organizers have produced a pretty nice flyer, but so far I haven't been able to find a webpage or any more details.
UPDATE 09/23/10: Here's the webpage: http://www.17thstreetfestival.org/.