Restoring Shared Prosperity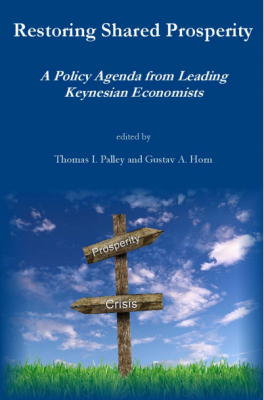 I have a chapter in a new book edited by economists Tom Palley and Gustav Horn.
The book is Restoring Shared Prosperity: A Policy Agenda from Leading Keynesian Economists and my chapter is called "The Indispensability of Full Employment for Shared Prosperity." I argue that full employment should play a central role in any strategy to reduce economic inequality. I cite data and make arguments that are greatly expanded on in another recent book, by Dean Baker and Jared Bernstein, Getting Back to Full Employment: A Better Bargain for Working People.
The book has 22 chapters divided into five sections: I. The War of Ideas; II. Keynesians Economics versus Austerity; III. Making Finance Serve the Real Economy; IV. Labor Markets for Shared Prosperity; and V. Refashioning Capitalism To Deliver Shared Prosperity. A main feature of the chapters is that all are relatively short and pitched at a serious but non-technical reader.
You can buy the book in paperback at Amazon. (The Kindle edition is only 99 cents!) Or you can download the entire book in pdf format for free here.