#WorkingFamilies Summit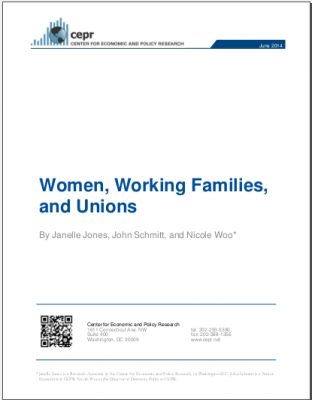 In advance of next Monday's "White House Summit on Working Families," CEPR released a report this morning that looks at the role that unions can play in improving work-life balance, particularly for women.
My colleagues, Janelle Jones and Nicole Woo, and I start from the observation that the typical woman spends far more time in paid work now than she did three or four decades ago, but women still do the large majority of unpaid child-care, elder-care, and routine housework. We then document that women in unions not only earn more and are more likely to have health and retirement benefits, but they are also much more likely to have a host of family-friendly benefits including paid sick days, paid vacations, and paid family and medical leave.
Given that one-in-nine women workers in the United States is in a union and women now make up just under half of all union workers, unions can play an important role in updating labor-market institutions to fit 21st century realities.