Union Membership, 2014
The Bureau of Labor Statistics released its estimates of union membership and union coverage for 2014 this morning. Last year, the share of U.S. workers who were members of a union fell 0.2 percentage points to 11.1 percent, continuing a decades-long decline in unionization in the United States.
My CEPR colleague, Cherrie Bucknor, and I (with the help of Nick Buffie) have written a quick analysis that attempts to put these latest developments into longer-term context.
You can read the full story here, but two points are worth highlighting. First, since the mid-2000s, workers in manufacturing are actually less likely to be in a union than the average worker is.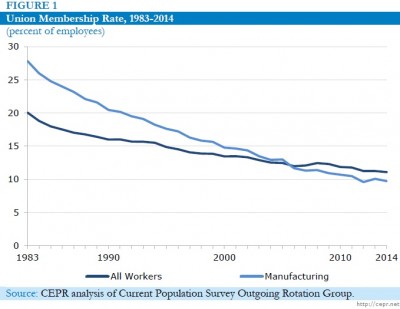 Second, the union membership rate in the public sector –where employer opposition tends to be much lower than in the private sector– is relatively high and has changed little over the last thirty years. By contrast, in the private sector, where labor law and strong employer opposition make it difficult for workers to join unions, membership has been much lower and falling steadily .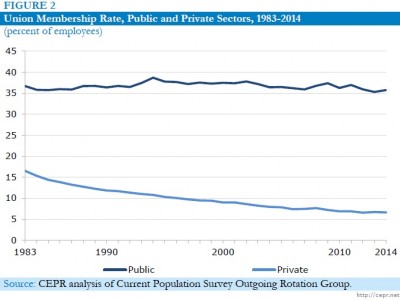 UPDATE 01/24/15: The Wall Street Journal's Melanie Trottman cited our research in her coverage in today's print edition (behind a paywall).